Once upon a time I believed in fairytales.
But then he took me.
And he taught me that life isn't a fairytale.
He is scarred. Broken.
A dark and wild thing.
His beauty is violent, and his words are cruel.
His heart is a shadowed landscape where nothing can grow.
He tells me he could never care for me and he proves it every day.
He's destroyed my life.
Tortured me.
And worse…
He's trained me to beg for his affection.
This prison is a place where sunlight doesn't reach.
He taught me that hate is born in darkness.
And then he taught me that sometimes love is too.
This is one of the darkest books I have read in a while. At the time I received the ARC, there was still no description for Beast on GoodReads, just this beautiful cover.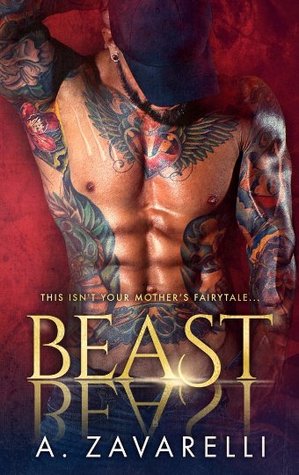 I miiiight have licked my computer screen… but like, just a little bit.
Fortunately, A. Zavarelli was kind enough to include a warning in the epigraph:
This book contains dark subject matter. Wait let me rephrase that.
This book contains DARK subject matter. Please read at your own discretion.
Without that heads up, I probably would not have been prepared to appreciate this book for what it is.
And it is fucking brilliant.
But also, a thousand kinds of fucked up.
This Beauty and the Beast retelling is everything the Disney version would never be, and yet there are amazing moments woven into the story that are these perfect little nods to the Disney version most of us grew up with and loved dearly. This is not a story that you will want to curl up with and snuggle on a rainy day, but it is a version that makes you question how you could possibly love the romance of the fairytale when you see what lurks under the surface.
So how do you take a beloved classic and make it soul crushingly dark?
Take a young boy, strip him of his humanity and raise him to be more animal than man.
"For a rose can wither in darkness, but burn in the light."
Mix in a young woman, raised by a father with secrets of his own, who doesn't quite fit the mold they've created for her.
"The flame inside of me has burnt out. And the truth is, I'm not sure I'll ever be able to light it again."
Liberally sprinkle in Stockholm Syndrome…
"My mind is a prisoner now too. And I am merely a puppet."
Add in subtle references to the original…
"You must promise to stay out of the West Wing."
And there you have it.
But what really makes this retelling stand out from others I have read, is that the author doesn't shy away from what it would take to truly break Bella. The events that play out on the page are shocking, and the twists pull you in different directions all the way to the very last page.
"The weight of his malice has finally suffocated me. I can't breathe at all. I'm deep in the throes of a panic attack.
And this is how I'm going to die."
"I don't understand how I can be so broken. How can I be relieved that it is him, even after what he just did to me."
"I swallow and look up into his eyes when he is finished. Wondering if he is angry. Wondering if I've done something wrong."
"When he even mentions a scenario where we don't exist together, I can't cope. The possibility douses me in fresh terror."
This story will certainly have you questioning whether truly everyone deserves a happily ever after…
Overall rating:
5 Once upon a time I believed in fairytales STARS
ARC of Beast was provided by A. Zavarelli in exchange for an honest review.
Suggested Drink while reading Beast:
Tattooed Rose
Martini Glass
1 OZ Tequila Rose
1 OZ Captain Morgan's Rum
Shake and serve on the rocks