From overfilling their books with blah, blah, blahs (AKA needless, contrived details) to forcing us to choose yet another team in the dreaded love triangle (#teamlogan—alright, that's Veronica Mars, but still), authors LOVE to get up to their shenanigans.
But for some reason we keep coming back for more. We keep buying books and we keep reading them.
Why?
Is it because we are gluttons for punishment? Is it because we just don't know when to throw in the towel? Is it because we secretly love to be pissed off?
Nope, it's none of those things (okay, well maybe it's a little bit those things). The real reason we turn again and again to books as a means of escape is that for every habit an author may have that bugs the shit out of us, they have that thing they do that drives us crazy…but in a totally good way.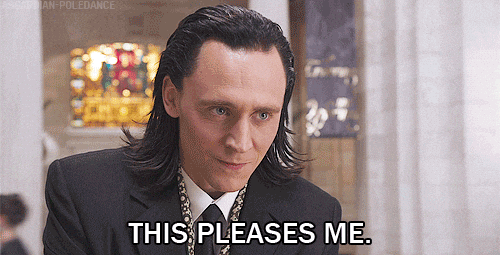 Yep, you got it: we're talking about the tropes that we love and can't get enough of.  And boy, there are A LOT of them. So to all you writers out there, current or potential, take note: if you want to win the heart of a MacHalo, here's a few ways to do it.
1.Surrender your women: The old "Mars needs Women" trope
Yes, I know. Our dearest Abby has already hit on this point, but I thought I'd say it again just so we're clear: we love us some alien sexy times. Like love, love it.
Take a hulky, hunky alien (I personally think the more alien he is the better…but that's just my preference) and send him to Earth to seek a suitable mate because the viability of his very species depends on it. Let him stalk her, then abduct her, then tell her she's his chosen one. Then let him set about seducing her by any means necessary: vibrating tongues, secret tentacles, ridged peens, whatever it takes to get the job done (but also make sure they realize in the process that they can't live without each other!)
Ah, man. Good stuff.
I also personally enjoy a good "human stranded on an unknown alien planet" trope. You know the one, where the h and H have absolutely nothing in common, including language, but now they must learn to communicate with each other in order to survive.
Do you know what language is universal?
Body language. Bow chicka wow wow.
Some books we'd recommend that feature some hot alien on human action are:
Ice Planet Barbarians by Ruby Dixon. This series basically hits all our alien trope needs and is definitely a group favorite. If you have not heard of it, what rock have you been living under? And if you have not read the first installment, what are you waiting for?
Abducted by Evangeline Anderson.  Our very own Shelly rated it 5 stars (and she has impeccable alien smut tastes.)
2.Dude looks like a lady! Uh, that's because she is: the "Cross-dressing" trope
We know that women are capable of all sorts of things: cleaning, cooking, sewing, birthing babies, just to name a few.
Wait! Don't shoot! I'm making a point!
Now what if I told you that women are capable of sooooo much more? Would you believe me? Well, there are some societies (fictional and real) that just don't get it. They don't understand how a woman could be anything other than a wife, mother, and/or helpmate. Don't get me wrong, I totally support a woman's CHOICE to be those things, but I don't support an ideology that decrees she HAS to be only those things. In other cases, women are meant to be seen but never heard, and their only purpose is to serve their lord, husband, master, whatever. Now this, I never condone.
That's why we love it so much when a woman rebels against this philosophy, even if she has to dress like a man to do it. We love the thrill of knowing that she is getting the better of every man she meets. We love knowing that the person who is keeping up with the boys, who has put herself in their world and been deemed equal, is missing that little penile projection that the men find so necessary for equality. We love it even more when, disguised a boy, she meets a man that learns to value her for her, not for what she can do for him. Gets us every time.
The "cross-dressing" trope kind of falls into the bigger "mistaken identity" trope, which we also dig. There's one book in particular that I loved for this trope (though, in all honesty it wasn't too hard to figure out), but I can't recommend because **SPOILERS**! Let's just say we love when there's a secret a figure out, and watching it unravel on page is tantalizing.
If you're interested, here's a couple of titles that we recommend:
Rebel of the Sands (Book #1 Rebel of the Sands) by Alwyn Hamilton. This is the first book in a YA fantasy series that both Shelly and I adored.
Ship of Magic (Book #1 of Liveship Traders) by Robin Hobb. This one is a little different. It's the first in an epic fantasy trilogy. While there is a potential love story simmering under the surface, one you hope will happen, it's still in the process of being built.
And, just for good measure, one for mistaken identity:
Thief of Shadows by Elizabeth Hoyt. A good pick if you enjoy historical romances, which (shhhhh!) I do.
3.I love how much I hate you, errr, I mean I hate how much I love you: the "Haters to Lovers" trope.
This one is so much fun to experience, seriously. You have this super hot alpha douchebag (usually) who reeks of sensuality and sexuality and dominance (hopefully) and you just know that he blows fucking minds in bed, but….he's a super hot alpha douchebag. We HATE him, or rather our girl hates him and we gotta stick by our girl. He's haughty and arrogant and he does that thing that drives her/us crazy. We know, as readers, the second he appears on the page that it's going to be a very sexually charged, tension filled ride, and we're going to love every friggin second of it. Watching as their heated barbs and blows turn to passion of a more sexual nature gets us feeling all funny in our womanly places.
"Friends to Lovers" is another we bandied about. I'm mentioning it here because the dynamics are similar. They've known each other forever, you know they are perfect for one another, one of them knows it too, if only the other person could see it as clearly. There's usually a lot of tension with unspoken feelings and a catalyst that pushes one over the edge. It gets you right in the feels as you watch the oblivious one finally realize they were meant to be together.
Here are our picks for this group favorite:
Darkfever (Fever#1) by Karen Marie Moning.  This should go without saying. What kind of MacHalo groupies would we be if this didn't make the list? If you haven't read this yet, what the frack is the matter with you? Read it already!
Big Rock by Lauren Blakely  Now this one is a good choice for a look at the "friends to lover" trope. You know, for research. Plus I never get tired of looking at that book cover. Drools.
4.He's never been the settling kind…until you: the "Reformed Rake"
Any self respecting historical romance aficionado will tell you that a reformed rake is the absolute best. He's the broodingly dark bad boy of the ballroom, the one who has lived through a dozen duels and whose second home is the gaming hell. He drinks too much, he swears in front of ladies, and if the tales are true, he's a master in the bedroom and no single woman will ever satisfy him. He's a confirmed bachelor, through and through. Until he meets the one he'd give it all up for. Swoon. Get ready to catch us as we fall all over this. We especially like to see this used in conjunction with the "wallflower" trope. It's like crack for the soul.
Of course, this same trope can also be used in a contemporary setting. We're not super picky. If an author can make it work, we will buy the shit out of it.
You can find this trope is some form in nearly all historical romances, but some of our favorite former rakes can be found here:
Devil in Winter (Wallflowers #3) by Lisa Kleypas. Not only does this one meet the "reformed rake" trope, but said rake is brought down by a wallflower.  Our squee meter doesn't register much higher than that.
On Dublin Street (On Dublin Street #1) by Samantha Young If you're looking for something more contemporary, anything written by someone named Samantha is bound to be awesome, right? I'm not biased. Nope. Not. At. All.
5.We're not kids anymore: The "Brother's Best Friend" trope 
Now, full disclosure: I don't have a lot of experience with this trope, but I can totally see how this would be one that gets the heart going all pitter patter (that's a thing people say still, right?) If you had an older brother growing up, odds are you had a crush on his best friend. He was the cooler, older guy that you got to see behind the scenes. You two developed a close rapport. I mean, you are his best friend's sister. You shared laughs and maybe some accidental touches. Of course, you were basically his kid sister too, so he never looked at you like that, right? 
Fast forward ten years. What happens when you both grow up? I'm sure he's hot, successful, and still utterly charming with a soft spot for his surrogate sis. But here's the truth of the matter: you're not his sister and you're definitely not a kid anymore. The only question left to answer is:
What are you going to do about it?
Yep, I can totally see how this works. I already feel invested in this completely fictionalized couple now residing in my head. See her, damn it!
And just so I don't steer you wrong on a recommendation, Abby was kind enough to provide one:
Seven Years by Dannika Dark. Of course, the synopsis doesn't really sound like my made up scenario but I'm sure the heart of it is there.
Which brings me to my honorable mention category:
Ragtag Group or Band if Misfits
If you have not seen Guardians of the Galaxy Vol. 2, get your ass in gear and go!
I'm adding this as a "bonus" mainly because I recently watch Guardians Vol. 2 and loved it AND it wasn't on our original list AND it has nothing to do with lurve and romance. I mean, I guess it could, but it doesn't have to. Who doesn't love a good motley crew with interesting eccentricities? Take the socially awkward, absentminded genius, add in a gruff and misunderstood lug who is magic in the kitchen, throw in someone who borders on psychotic when you get on their bad side, and don't forget to include the female mechanic (because that in itself is an oddity?), and then have this group led by the "down on my luck but I know a big score is just around the corner" charismatic and slightly narcissistic leader. It doesn't have to be this exact set-up, but you get my drift. This is a group you just know is destined for some epic, kick-ass adventures. Take me with you!
Some suggestion for this trope include:
The Palace By (Rogues of the Republic #1) by Patrick Weekes Think a bank heist with a band of misfits done fantasy style.
The Long Way to a Small Angry Planet (Wayfarers #1) by Becky Chambers Features one of my favorite ragtag groups: a space crew!
So, there it is folks, five of our group's favorite tropes (plus a bonus!) I found it pretty telling. Upon reviewing all of the suggestions there seemed to be one common element: romance. The MacHalos may seem like group of stabby crazies, but deep down we're just a bunch of softies (except for our magnanimous group Daddy-she really will murder someone with her horde of crustacean assassins if one were to attempt to suggest such a thing.) We want to see our h and H fall in love and get their HEA, but no "boy/girl meet cute" will do.
Make it interesting.
Make dangerous and dark.
Make it worth it.
Do you have a favorite trope we didn't mention? Maybe another book rec? We'd love to hear from you!
(NOTE: I do realize most of these tropes also work with the genders reversed or can be applied to M/M or F/F. For the sake of brevity, I only used the tropes as they applied to my reading preferences, not to intentionally discount others!)