I can't believe July is already over! I thought I'd have more time! You see, the kids start back to school on Thursday then I start back on the 21st. I have no idea after that point how much reading and gaming I'll be able to get done before then. The pressure! Gaaaaaaaah! Okay, so really I'm the only one putting pressure on myself but still, it's there, waiting to squeeze me until my insides become my outsides and I slide to the floor in a puddle of intestinal juices and goo. So, before that disgusting example of a tragedy occurs I need to get my affairs in order, beginning with a quick July wrap-up.
Surprisingly, July was not super productive reading wise. I completed seven books. There were a few others that I started but ultimately ended up setting aside, for now anyway. It's a mood thing. To organize my list somewhat I'm going to start with the worst and end with the best (this should be easy, as there is only one I'd really put in the "worst" category.)
Through the Door (The Thin Veil #1) by Jodi McIsaac ★★
This book is what I like to call fantasy light, meaning that it's kinda hard to pinpoint to a specific fantasy genre, but it's also not what I'd consider "real" fantasy. It's like bubble gum fantasy or popcorn fantasy even, light and fluffy and without much depth. I was drawn to it because I thought it had an interesting premise, as it revolves around a mother and her child. We don't see a lot of mom MCs, so I was interested to see how the author handled this scenario. The result? It was okay. It was fine. It was nothing stellar. I had originally given this book 3 stars, but, in the scope of things, I bumped it down to 2 stars. There's nothing wrong with this book on the large, but there were quite a few small things that annoyed me, the biggest issues being that the actions of 3 of the main female characters revolved partly/mostly around pining after a man (why?!?!) and that a large part of the conflict revolved around unnecessary secret keeping (which is one of my peeves.)
The Edge of Oblivion (Night Prowler #2) by J. T. Geissinger ★★★
This is most definitely a paranormal romance series, not a genre that I love love, so it's harder for me to rate. Even with that disclaimer I'd have to say that I have been pleasantly surprised. In this second installment of Night Prowler we pick up shortly after Shadow's Edge (Book #1.) This follows Morgan through her quest for redemption for actions that took place in the first book (so you kinda sorta need to start with Shadow's Edge.) The books themselves are a little romantic angst heavy (which is kind of par for the course for the genre) so the plot gets lost at times. However, I still like the world and the mythos that the author has created, I liked this couple more so than the last, and I will probably give book 3 a shot in the future.
Heart's Blood by Juliet Marillier ★★★1/2
This was a long anticipated read for me: a retelling of Beauty and the Beast written by a truly gifted story teller. I hate to say it, but this would have to be the biggest let down for me this month. I love Ms. Marillier's writing style. It's whimsical and poetic and often poignant. However, I found this lacked a little bit of her normal magic. The two main characters were boring, and the secondary characters only just made up for it. I also felt the story lacked enough information, like it was missing chunks of backstory and history. There were a lot of unexplained phenomena, like the castle, and the mirrors, and the Tor in general. It hints at a long, magical history but never does it expand on that. With that being said, even though I was a little disappointed, it was by no means a terrible book. There's always a definite beauty to be found in her writing, and this was no exception. I just didn't connect as much as I hoped I would.
The Diabolic (The Diabolic #1) by S. J. Kincaid ★★★★
I know some may classify this as science fiction, and it is to an extent, but to me this reads clearly as a YA dystopian that just happens to have a space setting. Yeah, you know what I'm talking about. Calling it science fiction just makes it sound more grown up. But it's cool. Because I still actually like depressing dystopian settings, and I really like space. Win-win for me. This is a book that I read in basically one sitting, into the wee hours of the morning. It was bloody and dirty and sad and fun? All I can say is that I really liked Nemesis. I liked that she managed to remain true to her character, that she was able to remain calculating and fierce while at the same time discovering her capacity for emotions, for humanity. I thought the author achieved a great balance there. As for the rest of the cast, I don't trust nobody (yes, that's my southern Podunk vernacular.) You hear me? Nobody.
Rescued by an Alien (Stolen by an Alien #2) by Amanda Milo ★★★★
I know, I know, another alien romance. What can I say? It's my guilty pleasure. Ah, who am I kidding? No guilt here, none whatsoever. This is the second book in the Stolen by an Alien series. It picks up towards the end of Stolen by an Alien (Book 1), basically right dab in the middle of the chaos at the end. Where Arokh and Angie's story concludes (ish), Zadeon "Z" and Callie's story begins (ish). I liked this one just as much as the first. It has heart and soul and all the alien goodness that I crave, while at the same time it has a slightly darker undertone and touches on some pretty sensitive issues. I'm now officially a fan.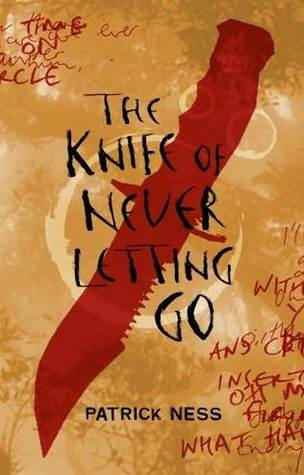 The Knife of Never Letting Go (Chaos Walking #1) ★★★★1/2
The Ask and the Answer (Chaos Walking #2) ★★★★
by Patrick Ness
Yes, I know. I seem to be on repeat. First there was yet another alien romance and now there's yet another science fiction dystopian to add to the list. Eh, what can I say? I guess I'm pretty predictable. Here's the deal: I was hoping to finish this series before the end of the month. Unfortunately, that did not happen. I'm a slacker, that's really my only excuse. This series, gah, it's so frustrating and heartbreaking and so amazingly well written. Mr. Ness is a consummate story teller, even if that story is harsh and ugly and hard to bear. It's like the trifecta of dystopian tales: this series puts humans who settled this foreign planet against the non-human natives AND the haves (those with the cure to a "plague" affecting the humans) against the have-nots (those without said cure) AND the men against the women. There's literally SO MUCH CONFLICT. And, get this: just when you think there can't possibly be anymore strife, in book 3 we'll see the new settlers land and throw their lot into the pot as well. I really have no idea how this is all going to go down. Of course, I know how I want Book 3 to end (with the Spackle/natives getting some much deserved vengeance against the humans), but I doubt Mr. Ness is going to take it there. Whatever happens to conclude this series I'll just say this: I think this story was brilliantly told. It stemmed a lot of interesting discussions in our group so I'm really happy to have read it with the group of people I did. Thanks guys! Book 3 is on the books for mid-August so be on the lookout!
Gaming:
Well, after completing the ME trilogy last month I thought I was going for another play through of The Witcher III (only this time with ALL the DLC). That commitment lasted like a day. I was on a ME high so decided to go for Mass Effect: Andromeda instead. It didn't suck me in like the others did. Now, don't get me wrong, I played it hot'n'heavy for like 2 weeks…but once I stopped, I stopped. Maybe it's knowing there's nothing else to come? No DLCs, no game 2, nothing, nada, zilch. It's kinda sad to become invested in characters knowing this is all there is. However, hopefully this means there's a DA:4 on the horizon–that will be my consolation AND I will eventually at least complete the main story of Andromeda.
Aside from ME:A, I also went ahead and purchased Borderlands: The Handsome Jack Collection. My son and I have had a few days of fun with that. For those who don't know, it's just like guns, guns, and more guns. It's pretty awesome, and dare I say badass?
We've also been into a different sort of gaming: BOARD GAMES! Taking it back old school. That's been pretty fun, especially since we are all super competitive. Our most recent addition is Smarta**. Trivia games are like my jam. Fortunately, I managed to answer the bookish ones right (John Grisham and Ernest Hemingway)
Movies, TV, etc:
This will be simple: I can't remember the first movie I watched, so either a) I didn't watch any OR b) they weren't worth remembering. As for TV, well I turned on our actual satellite for the first time in like a year and was pleasantly surprised to see the newest season of Hoarders (mostly) recorded. Yay! Just when I thought I needed to clean my house, I now realize it can always be worse. Thanks Hoarders for feeding our slovenliness! I also googled "Best Shows on Netflix" and discovered Rectify. I cried like every episode and of course binge watched the entire thing in like a week. Even though it was cancelled, the writers did a really good job of concluding the series. It felt complete (mostly.) It was a good pick, so thanks Google!
Let me see…
Well, I turned thirty…ahem, I mean TWENTY-five this month and my daughter turned SIXTEEN!!!! (don't do the math. it's very complicated). SIXTEEN people. Where does it go? I'm all for any excuse that allows for all-you-can-eat sushi, but really? Really?! It seriously goes by so damn fast, y'all. There was a little bit of a theme going on for her gift-wise too, as she received a Ouija board, an EMF meter, and multiple books on ghost hunting and haunted places. Oh, and I must not forget her Harry Potter: Dark Arts loot crate. That was a pretty cool reveal as well. It was a lot of fun for her and a lot of sad for me. Gah!
Oh, and we've decided to try our hand at knitting. You know what they say: families that knit together…maybe there's no saying for that. Well, either way, it should be interesting. My son wants to knit a cape. He's the coolest weird kid I know.
Alright, I've rambled on entirely too long. This was supposed to be a quick wrap-up. Maybe I need to reevaluate my definition of "quick." Sheesh.
Ya got any comments, questions, or concerns you know what to do. Peace (and then I mimic a mic drop.)