We thought we would compile a list of books to read during the month of October. These aren't Halloween-themed books, but are perfect for anyone looking to be spooked, scared, thrilled, grossed out… you get the idea.
Shelly's Picks
1. Dead Souls
I loved this book. It's violent at times, but wildly entertaining, and is about selling your soul to the devil and the chaos that happens afterward. There are some truly WTF moments happening in these pages toward the end.
Here is my review at Goodreads.
2. Bird Box
This is more of a creepy thriller, but another book I gave five stars to at Goodreads. It's got a dystopian/post-apocalyptic vibe, girl power, and will leave you thinking when you are finished.
3. The Red Mohawk
This book was a hoot! It's offensive, irrevent, and violent at times, but it was like a Quentin Tarantino movie, in my view. Over the top crazy shenanigans going on. Not really scary, but definitely a good book to read for Halloween. My review at Goodreads.
4. Brother
This book kept me up until 2 a.m. reading. It's got a backwoods hillbilly serial killer theme and was just so addicting. It can be pretty brutal, but is more than a slasher tale.
5. It
What horror list could be complete without the classic of all time, It? Pennywise the clown. Traumatizing kids and adults alike for decades. That's pretty much enough said. A door stopper of a book, but one of King's best, in my view.
Sam's Picks
So, it has recently been brought to my attention (at the moment I agreed to contribute to this list!) that I don't read many scary or spooky books anymore. Why?! As a young reader, thrillers with an undertone of horror were a book staple for me. I really need to work on balancing my reading selections by adding more creepy goodness to my repertoire. However, I do have a few recs that I think pass muster. Here they are (in no particular order):
1. Bird Box by Josh Malerman (yes, I'm totally stealing Shelly's rec!)
Like Shelly said, this is more thriller/suspense, but there is a vein of uneasiness that runs throughout the entirety of the book. The unknown can be terrifying, and this book makes great use of that premise.
2.  Cold Fire by Dean Koontz
This was one of my first Koontz books and one of the reasons I fell in love with the horror/suspense genre as a teen. There are many, many books of his that I could add to this list, but I'm sticking to just this one. I haven't read it in years, but thinking about it still gives me the creeps, and windmills, in particular, will always seems ominous and surreal.
3. Poe by J. Lincoln Fenn (which, incidentally, does take place during Halloween)
Don't let the title mislead you, this book is not about Edgar Allan Poe…at least not directly. At its heart, it's a good, ole-fashioned ghost story that I really enjoyed. This was the author's first published work, for which she won the 2013 Amazon Breakthrough Novel Award in the Sci-Fi/Fantasy/Horror category I might add. Shelly included another work by the same author in her list, so my advice is check both titles out!
4. Seed by Ania Ahlborn
I'll admit, part of what drew me to this book was the cover art. While it wasn't technically a favorite of mine, the pages in between contain a story that had some genuinely disturbing moments with an ending I was not expecting (for some reason). Again, Shelly beat me to the punch with this author. To quote Cartman, "Whatever, I do what I want" so I'm adding it….plus it's one of the few horror books I've read fairly recently. With this author recommended by both of us, I think she's worth looking into!
5. Dead Sky Morning (Experiment in Terror Book #3) by Karina Halle
Y'all, I was such a fangirl of this series when I first discovered it. I literally had all of my IRL reader friends reading these books. The books were fun and quirky and more than a little spooky. Unfortunately, the series took a dive for me around Book #6, so I never finished it out (maybe one day). With that little disclaimer out of the way, this book still stays in my head for its creep factor. They spend the night on an island where shit gets crazy. I recommend Books #1-5 (plus the novellas), but after that you're on your own.
BONUS (since I did technically repeat one of Shelly's suggestions)
Diary by Chuck Palahniuk 
Chuck never fails to elicit some type of emotional response with his works, though it's usually more like revulsion or disgust with his macabre style and sense of humor (which I totally love by the way!) This one is no different. If you like books that leave you unsettled and twisted, you should totally check him (and this) out.
Abby's Picks
If you couldn't tell by my movie selections, I don't really do scary. But for some reason, I do really enjoy scary audiobooks. Don't ask me to explain why, I'm not really sure. But it does remind me of sitting around a campfire telling ghost stories. So here are 5 spooky/creepy audiobooks that I highly recommend. I'm not sure if these will hold up reading them, so give them a listen.
1. The Haunting of Blackwood House 
By Darcy Coates, this is the most recent scary story that I've listened to. I highly recommend listening to it. The narrator does a fantastic job. I listened to it at work and half expected an ax man to jump out at me.
2. Necronomicon: The Best Weird Tales
I firmly believe any lover of horror should read the classics at some point in their life. For me, the audiobooks was the perfect way to do it. It took me a few months to get through the whole thing, but I was only listening to 1 or 2 stories at a time.
3. Forsaken (Shadow Cove Saga,  #1)
You absolutely must listen to this story. It's been over a year since I have. But I still get chills thinking about the narrator saying… Tap……Tap……Tap. 
4. Haunted 
I'd rather not discuss how much this book scared me. So just go enjoy it if you want to be creeped out.
5. The Stand
Believe it or not, I actually read everything Stephen King had written when I was in 6th grade. This may or may not be the reason I'm so chicken now, but I don't think so. This one continues to be the most terrifying to me. It randomly pops up in my mind at very inappropriate times, like using the restroom. Every few years I go crazy and think I should re-read this. I'm clearly nuts.
Kira's Picks
Scary or spooky books are generally not something I gravitate towards. I'm not easy to scare, so maybe that has something to do with it. I second Sam's recommendation for Karina Halle's Experiment in Terror series. I was obsessed with it. Anyway my picks are a bit unorthodox, but these are the few spooky or horror books that I genuinely loved.
1. Alice (The Chronicles of Alice #1) by Christina Henry
This is one of my favorite books ever! Not only was it dark and demented but gory as hell. Lots of murder and blood wrapped up in an Alice in Wonderland retelling. You can read my review here.
2. The Visitor (Graveyard Queen #4) by Amanda Stevens
All around great series that gets quite spooky at times. This book in particular was the best, but they have to be read in order for what's going on in this to make any sense. It has a strong paranormal romance element, so you may want to avoid this if that's not your thing.
3. The Graveyard Book by Neil Gaiman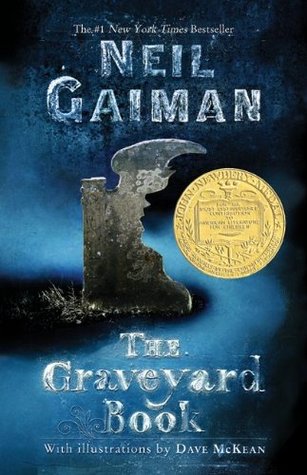 Technically this a kid's book, which really surprised me when I read it. It's quite dark. I would have at least classified this as young adult although I read this to my kids when they were young and they loved it. After having his family slaughtered, a young boy wandered into a cemetery where the ghosts decided to protect him. It's highly original. I'd recommend this for anyone of any age to read.
4. Horrorscape (Horrorscape #2) by Nenia Campbell
The Horrorscape trilogy was my introduction to dark and demented books. Everything that happened in these was wrong on so many levels, and I couldn't put them down. They were absolutely addicting. You've got to have some dark depths to your soul to find these appealing. I picked this book in particular because it more closely resembles traditional horror than the others in the series although the last one is definitely the most horrific.
5. The Grownup by Gillian Flynn
I love Gillian Flynn's books because they're always dark. The Grownup is a horror short story. It had a nice twist at the end that I hadn't seen coming. It's a quick read, so pick it up if you've got an hour or less to spare.